There are many types of flooring that you can install in your bathroom, and whilst selecting the best one, you should consider more than your personal taste or your sense of style. In the bathroom, especially, some issues become more important than others, such as safety, maintenance, and waterproofing. So how do you decide? Luckily, the process is not so hard if you have some advice from the experts and if you understand some of the important properties various types of flooring have.
Are you thinking about how to select the best materials for your bathroom floor? Here's how to choose the right flooring for your bathroom.
Wood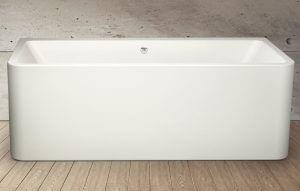 Hardwood tends to give your bathroom a very warm charm that can change the whole feeling of the area. Furthermore, if you have installed hardwood flooring throughout the rest of your home, you'll be able to create unity in design. Beware, however, of durability (with water) and maintenance requirements.
Vinyl Vinyl has been a very popular choice throughout the years. It's easy to install and comes in sheets or tiles. Tiles are usually easier to install, and in case of necessary repairs or maintenance, one single tile is conveniently replaced. Maintenance is easy, and vinyl is relatively water- and mould-resistant.
Ceramic tiling Ceramic tiling is also very popular. It differs from wall tiling in that it has a more textured surface to avoid slippage. It comes in different shapes, sizes, and colours and with certain versions (e.g. mosaic tiling), great designs can be laid. It's waterproof and easy to maintain, though you should carefully check the porosity rating for bathroom purposes.
Laminate Because of its durability and convenience for cleaning and maintenance, laminate is an economical choice for many homeowners. Laminate is actually a composite of various materials, and the surface design is created by printing a photographic image, so there are plenty of designs to choose from.
Natural stone Natural stone usually comes cut into tiles and allows for a classic design. They're easy to clean, but require a strong floor to hold them. For bathrooms, it's recommended you get the textured variety for safety reasons. There is one more option you might consider: carpeting.
Although carpeting is often considered a very impractical choice considering the potential for water spills and splashes, all you really have to do is make some carefully considered choices when it comes to the quality of the carpet and the positioning of it. As long as your carpet is mould- and mildew-resistant and has a backing that wont allow water to seep through, it's an option that can make your bathroom very comfortable and stylish. Consider all options carefully, and make sure you put safety first.