With all the whirlpool baths available out there, it can be a difficult matter to choose the right one for your needs, preference, and budget. And this, after all, is a major decision, you wouldn't want to be stuck with a whirlpool bath that you are not satisfied with at the end of the day, would you? But when you know that you have chosen the right one, it's a great feeling indeed.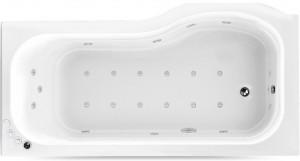 Here at Lisna Waters, our focus is not only on giving you a wide range of affordable choices when it comes to the ideal whirlpool bath we are also here to give you sound advice and guidance, so you can ultimately make the right decision. Your options when it comes to whirlpool baths:
The size The size of the whirlpool bath you choose will, of course, depend on several factors. These factors include the size of your bathroom, your budget, and what you prefer as well. The standard lengths for whirlpool baths range from 1500 to 1800, and you can choose to have a double ended or single ended whirlpool bath. But apart from a selection of sizes, you also have several options with regards to the shape of the bath. We also have corner whirlpool baths (perfect for smaller, more compact bathrooms) and two-person baths.
The features There is also a wide selection of features which you can expect from today's whirlpool baths. These features are designed to make using and operating your whirlpool bath much easier. One of the most popular features you can expect is a number of hydrotherapy jets for a more enhanced massage. The number of hydrotherapy jets also varies per whirlpool bath, so you can choose to have one with eight jets, 12, or even 16 for a more thoroughly relaxing massage experience. Another feature to look for is whirlpool flow control, which allows you to adequately control the flow and intensity of the jets and the entire system, so you can have either a softer, gentler massage or a more vigorous massage. When it comes to safety and security whilst operating your whirlpool bath, features such as a child safety suction are a welcome addition as well. This feature automatically stops the bath's pump from working when the suction is accidentally obstructed by any object. Other features to look for would be anti-bacterial pipework, dry-run protection for the pumps, and even ambient lighting to set the mood.