We already know that freestanding baths come in different styles, shapes, and sizes, from modern geometric shapes that work well with the modern bathroom to the more classic, claw-foot style and design that is an ideal choice for a more classic or rustic bathroom theme. But what about materials?
What kind of material is best suited for your freestanding bath? This is where we make an important comparison of different freestanding bath materials available today to help you make the right decision for your needs.
Acrylic freestanding baths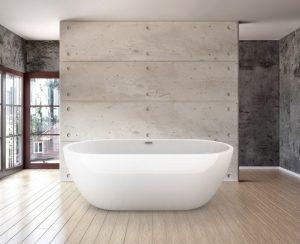 Acrylic can be said to be one of the most popular materials around, and for good reason. The beauty of acrylic comes from its light weight and its durability as well as its easy to clean properties. Acrylic, as a material, is also easy to mould, so it is often available in many different freestanding bath shapes. Acrylic freestanding baths can last for a very long time, and since the material is man-made and easily manufactured, the price of an acrylic freestanding bath need not be too taxing on the budget, either.
Natural stone freestanding baths There are also natural stone freestanding baths, and these are often carved by hand so the buyer can have a design that is uniquely custom-made. The natural stone materials used for freestanding baths include marble, granite, and travertine. But if you are thinking of having a natural stone freestanding bath for your bathroom, there is one important consideration: these stone baths are quite heavy, and it's crucial that your bathroom's flooring will be able to support their weight. Note that the average weight of a natural stone freestanding bath is approximately 900 kilos and up.
Cast iron freestanding baths Cast iron is another material that is quite popular with some buyers, and one reason for this is its sturdiness. A cast iron freestanding bath's design and colour works well with old-fashioned or traditional bathroom themes. You can opt for a cast iron freestanding bath raised on a pedestal or platform, although you should also think about the extra weight. Additional support may be needed for the flooring as well.
Stainless steel or copper freestanding baths Stainless steel baths have the advantage of easy maintenance, whilst copper baths are available in both modern and classic styles. However, they can be quite expensive, so you have to factor this in as well. If you want a freestanding bath that's not only practical and efficient, but also aesthetically appealing and pleasing to the eye, you may as well opt for one made of acrylic. This type of freestanding bath has a long lifespan and can withstand wear and tear very well indeed.