There was a time when whirlpool baths were considered to be an item of luxury, something to be seen only in health spas or fitness clubs. Those days are long gone; whilst a whirlpool bath still offers you a tremendous amount of luxury and comfort, they are becoming more and more popular because they are increasingly becoming more affordable and because consumers are more aware of their various benefits. If you're thinking of getting a whirlpool bath, then congratulations are in order. However, you need to make sure you get the right one; there are a lot of choices on the market, and each manufacturer will have its own features installed. If you can't decide which to choose, then this one's for you: here's a list of useful features to look for in a whirlpool bath.
First, some practical thinking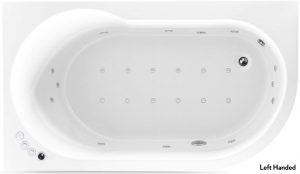 You need to be sure that the practical issues are taken care of, so let's go over those first:
Location You need to be sure the whirlpool bath will be installed where it is most convenient; beware of doors and windows that open (of the room as well as of closets), and think about the existing plumbing and electrical supplies.
Size space is important, and a bath that is too large and eats up too much bathroom space is not practical. Strike a balance.
Choosing your features There are many features available. Consider just some of them:
Thermostatic control this feature will allow you to regulate the temperature of the water automatically as it mixes hot and cold water according to your settings.
Water massage system enjoy the jets and streams of water hitting your body.
Air massage system similar to the water massage system, only softer and smoother.
Maintenance some systems actually maintain themselves!
Lighting that's right, you can liven the atmosphere with in-built lighting options.
Of course, there are many other features that you can look for. For example, there are models out there that provide you with an air regulator (which diffuses extra pressure), or you can opt for a foam headrest (which provides you with extra comfort, but which needs to be checked for water-proofing). You can also opt for a hand-held shower system, for example. However, before you choose any of these special features, you may want to investigate the safety of them? that's the most important, after all. Your manufacturer should be able to tell you what safety features are installed, and how they work. If you're going for a whirlpool bath, then there surely are many hours (no - years) of bathing pleasure ahead provided, of course, you make the right choice for you and your family.