Although there may be many different types of baths to choose from nowadays, still nothing can compare to the ultimate relaxation provided by a whirlpool bath. With your own whirlpool bath, you can benefit from a fabulous massage and a soothing soak right in the comfort of your own home. But when you are contemplating purchasing a whirlpool bath for your home, there are some factors that you need to consider first. Once you think of these factors, you can say without a doubt that your purchase of a whirlpool bath is totally worth it.
Know what you need You certainly have plenty of choice in regards to whirlpool baths. Sizes and shapes can vary, so it can be a little bit confusing when you see all the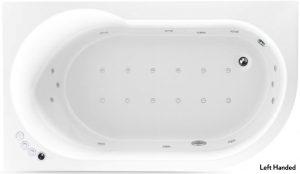 choices that are available. Before you even begin to browse through various selections, you should determine what it is that you want and need. If you have a large bathroom, for instance, you may want a whirlpool bath which can accommodate two people. Most whirlpool baths also come with multiple jets, but where these jets are placed also makes a difference. The best type of whirlpool bath is one that has jets that are placed in strategic locations so that you can have a back and leg massage whilst soaking at the same time. If you have a small bathroom, no need to worry, you can also opt for a corner whirlpool bath which takes up less space.
Use it at the end of a long, tiring day Everyone loves a good soak once in a while, especially if they've had quite a stressful, hectic day. But what can soothe your tired, aching muscles more than a luxurious soak at a whirlpool bath? As a matter of fact, it's been scientifically proven that whirlpool baths have certain hydrotherapy benefits, as the warm water combined with the water jets can relax your muscles, eliminate joint or muscle strain, and take care of fatigue and backache. The emotional and mental benefits are there as well, not only will your body feel relaxed, your mind also feels less stressed. One way to maximise your experience in your whirlpool bath, therefore, is to do it at the end of the day. This way, you can also have a great sleep.
Invest in good lighting If you want to have a completely relaxing experience every time you use your whirlpool bath, you should also consider the lighting. Most bathrooms, unfortunately, only have overhead lighting which is not only dull and boring, but ugly as well. Try to invest in good lighting for your bathroom, especially lighting that can be dimmed or placed in the corners so that you can have a more soothing, relaxing ambience - perfect for that evening soak.