Most bathrooms today have a bath tub, which is hardly surprising, since a bath has become a necessity in today's increasingly hectic and demanding world. We all need to soak in a bath once in a while just to relax and de-stress and ease our worries away. Nothing can compare to finishing a nice long soak in the bath and emerging feeling fully relaxed and rejuvenated. But if you are planning to install a bath, what styles and materials should you know about? There are many choices out there, and the choice you make will make a big difference to your overall satisfaction.
Here, then, is an overview of the most popular bath tub materials and styles you should know.
Which materials to choose When it comes to materials, the selection is seemingly endless. You have your acrylic bath, your stainless steel bath, natural stone, cast iron, and even wood. So which material should you select? Well, it really depends on your requirements and other practical aspects.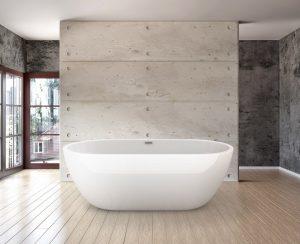 If you choose cast iron, for instance, you have the benefit of a bath that is virtually scratch-proof and long-lasting, with a strong and secure coating of enamel that makes for a sturdy and comfortable bath. This cast iron bath is also referred to as porcelain due to the coating. There is an issue with cast iron, however, the fact that it's heavy and often difficult when it comes to installation. You may need to have reinforced flooring when thinking of a cast iron bath.
There are also pressed steel baths, which are lighter than cast iron baths and come in a range of sizes and colours, and acrylic is another material which has already made its mark. Acrylic is known for its versatility and affordability as well as its strength, but it is also lightweight and can be moulded into a variety of sizes and shapes. If you want a bath that is easy to clean and maintain, then acrylic is for you.
Natural stone is yet another material for baths, although this is quite heavy and not-so-easy on the budget (think marble, granite, or travertine). Wood, whilst attractive, needs to have several layers of coating so the water doesn't seep into the wood, and wood often does not last as long as the other materials mentioned.
Styles of baths The style of the bath you choose should be a good match for the overall style and design of your bathroom. If you have a classic-themed bathroom, a freestanding bath with claw feet is a brilliant match. But freestanding baths also come in more modern styles, so keep this in mind if you have a more contemporary bathroom. Other styles include slipper baths, corner baths, built-in or alcove baths, and shower baths (a combination bath and shower). Happy choosing!