Buying the perfect bath for your bathroom can be considered tricky but it's an exciting endeavour as well. Of course, just like any homeowner, you want to be sure that you are making the right choice after all, you'll have to live with your choice for a few years, at least. And besides, baths are not cheap, so you want to make doubly sure that your decision is the best one. That being said, here are the top three aspects you should consider when selecting a bath.
The type of bath First of all, you need to ask yourself this very important question: what type of bath do you want? Even more so, what type of bath will fit into your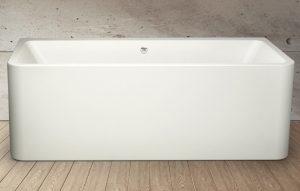 bathroom?
There are basically two bath types that you can choose from: a freestanding bath, or an alcove or inset bath. Most bathrooms have alcove or inset baths because they fit better into a small space. But if you have a certain amount of space in your bathroom, it would be more aesthetically-pleasing to opt for a freestanding bath.
Why? Because freestanding baths can really transform your bathroom and serve as a stunning focal point and centrepiece. If you have a freestanding bath, you just need to decorate around it. Of course, you can also choose to place your freestanding bath in a corner, just like alcove or inset baths. One other practical consideration to think about, however, is if you are replacing an existing alcove or inset bath. If you are replacing an existing inset bath, some installers would recommend just choosing another alcove or inset bath to make installation easier.
The material of the bath Another major aspect that can affect your decision is the bath's material. Today, baths come in a wide range of materials, from acrylic to steel to wood. Some alcove baths are made from steel which is coated. If you have children, you may want to go for a steel-moulded bath as they stand up well to wear and tear. You can also choose an acrylic bath, which can actually be custom-moulded and, when scratched or damaged, can be repaired easily. A stone bath may also be an option, but keep in mind that stone can be heavy, so you may have to reinforce your bathroom flooring as well.
The shape of the bath Baths come in all shapes and sizes so you really have a lot of choices (which can actually end up being confusing). But in general, the oval shaped-bath is still a popular option as it's a classic shape that fits well with most bathrooms. Of course, you can also choose to have a rectangular-shaped bath, a corner bath, and even a round bath. It's about comfort and practicality as well.